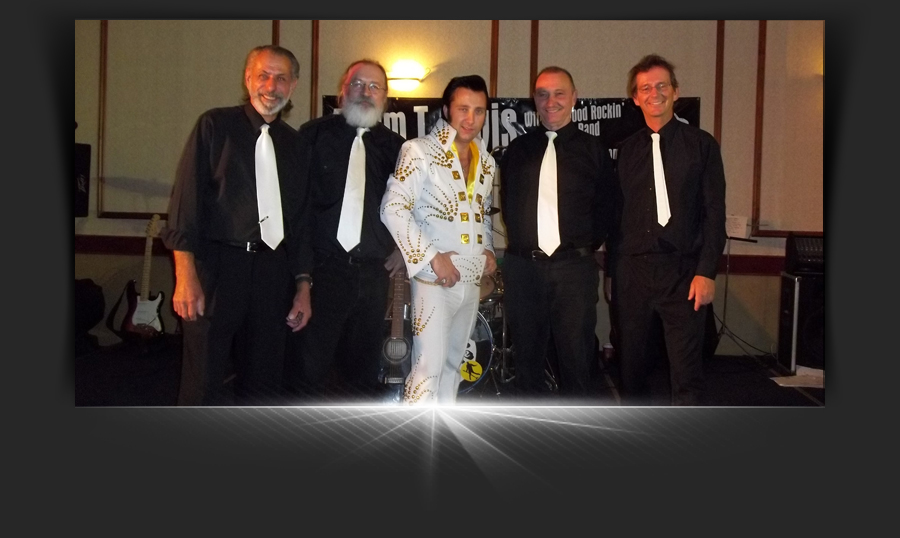 The Good Rockin' Tonite Band is one of the best Elvis tribute bands in Canada. The band consists of four very seasoned musicians who have been playing music for over 40 years.
On Lead guitar we have Jack Palace with over 30 years of playing experience. Jack masters the original guitar licks of Scotty Moore and James Burton (Elvis' guitar players) with a hint of his own personal touches making it sound like your listening to the original records.
On Bass Rockn' Rick Wojoik is the newest member of the Adam T. Elvis Show. Since Rick has started with us, he has given the band a new sound as he also masters the exact bass lines of all the original songs. " I've personally never heard any other bass player play all the Elvis Songs with such accuracy"- Adam T. Elvis.
On Keys and backup vocals: Brian Louko strives to play the songs the way they originally were, both with piano licks and filling in on all the other instrumentation on his keyboard that helped create the Elvis sound such as horns, strings, tympani, flute, accordion and any other instruments that were used in Elvis' songs
On Drums and Backup vocals Craig "Stix" Fraser is the only original member of the Good Rockn' tonite band. Craig Keeps the band together on and off the stage. With 40 years of drumming experience, Craig perfects all the various beats of Elvis' music and keeps the band sounding tight and on beat.